[United State] Striped Bass Fishing the Tennessee River
April 22, 2018 by Davey Brown

If you are a die hard fisherman like I am, you probably have a bucket list fish that you have dreamed of catching. For me it was a big striped bass.
This past week I had the opportunity to chase after that dream fish out in Tennessee with the guys from Tennessee River Monsters.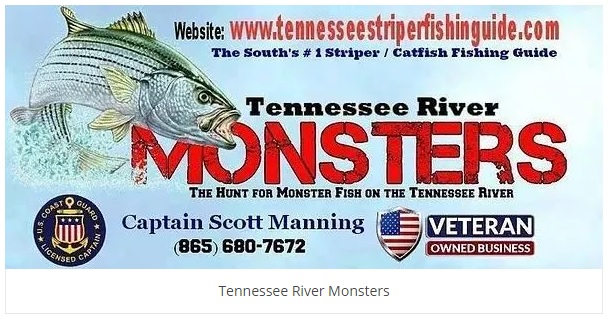 The monster striped bass has been an elusive fish for me for some time. Living in Southern California we hear of the occasional monster, but they are few and far between. With lakes like Silverwood, Pyramid, Perris, Castaic and Diamond Valley in our backyard, we have ample opportunity. You'll hear of fish over 20 pounds over the years, but the true monsters are pretty elusive.
This past week I had the opportunity to fish with Brycen Robers from Tennessee River Monsters. He and his partner Scott Manning have been an Okuma guide service for several years and operate a great service. They work hard and definitely find the fish.
This weeks adventure found us in Lenoir City Tennessee. This city is right near several dams along the famous Tennessee River. We started our day about twenty minutes out of the city on a very cold morning. At least it was very cold for a couple of SoCal guys. We woke up to about 35 degrees and low fog, and headed on out. We arrived at the dock and Brycen was ready to go. He had went out and caught us some nice big Skipjack the evening before. And when chasing monsters, you want big bait. These Skipjack were from 16-20 inches long.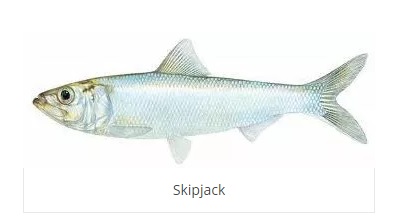 We launched and headed up river to a spot that they saw some fish the day before. The low fog on the water made for some spectacular viewing. It was absolutely gorgeous out there, but pretty darn chilly.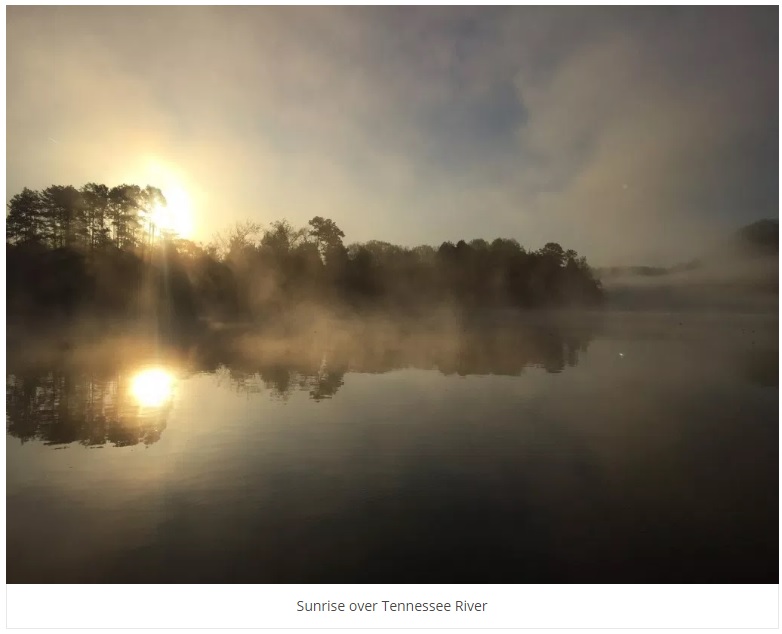 We tried several spots in the early hours to no avail. We had big swirls and take downs, but nothing stuck. These striped bass were lock jawed. The water was 57 degrees when it is usually about 65 degrees at this point in the season. That might have had something to do with the fishing being a little slow and lethargic.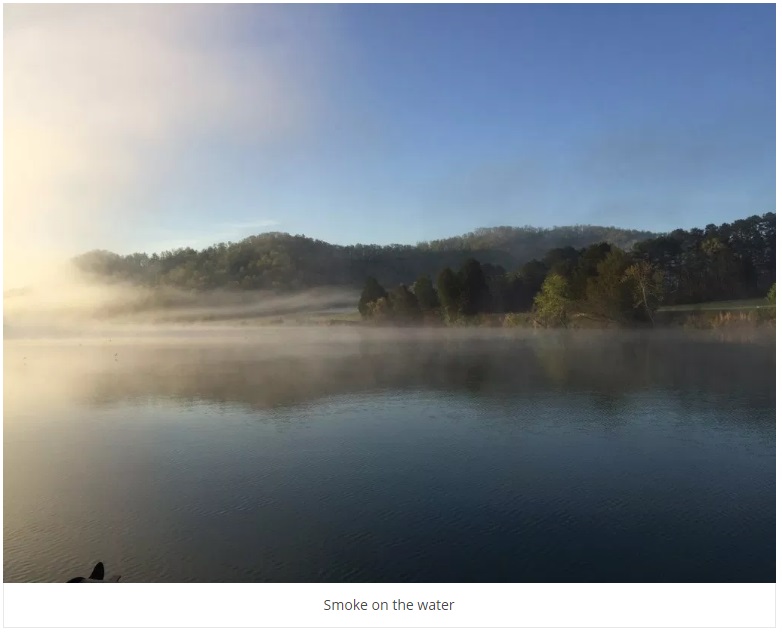 At about 11:30 am we decided to come up with a different game plan. We decided to make a big move and fish the afternoon hours down at famous Watts Bar Dam. Brycen went out a couple hours early and found us some fresh Skipjack for our afternoon session. It was difficult to leave such a beautiful morning on the river, but we had big fish plans ahead.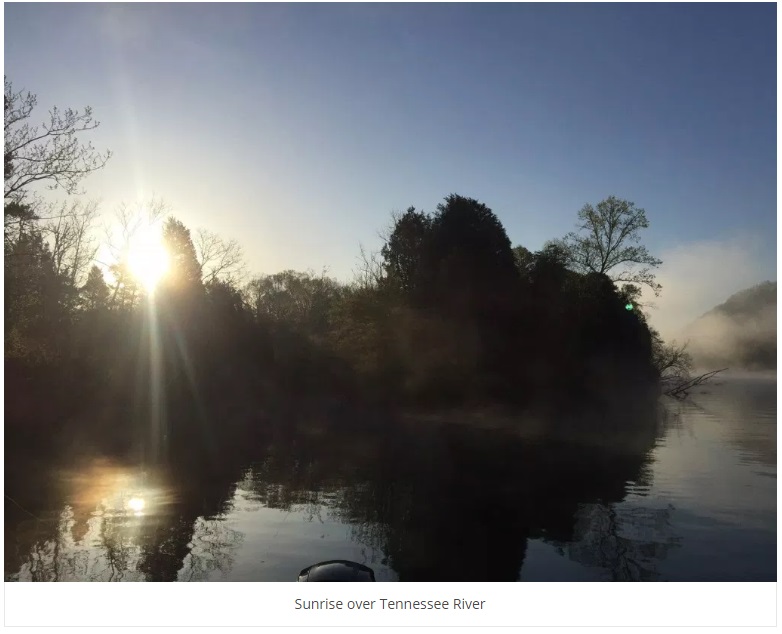 After loading up with a nice lunch at Cracker Barrel, Gene and I made our way on down to the meeting point. We met at the launch ramp and headed over to the dam. We fished the face of the dam on a flat section of about 20 feet deep. The rigs we fished were Okuma Komodo SS baitcast reels on EVX b Musky rods spooled up with 30lb test and a balloon rig. The balloon rig set up is a pretty fun way to fish. You tie a small balloon about 9-10 feet up from your bait so that it doesn't dive too deep.
Once we were rigged and ready, the first bait went into the water. I tossed my bait overboard and put it in freespool and not 40 seconds later a GIANT striped bass came up and swirled on my bait. Holy moly that was exciting! We had several swirls and chases with lots of excitement, but couldn't get anything to go.
After about a full hour my balloon started to fidget a little and disappeared. It was on! I reeled down on my line and set the hook into a bruiser. This fish fought hard and tried to make a run to the strong current by the run out, but didn't make it. The Komodo SS is just too powerful. Once I got the monsters head turned it was game over. She made a couple of small runs, but ultimately she ended up boat side. Brycen reached down with the Boga's and pulled her aboard. This big striped bass came in at 42 pounds even. I couldn't believe my ears. My previous best was short of 20 pounds, so this fish doubled it. Very exciting.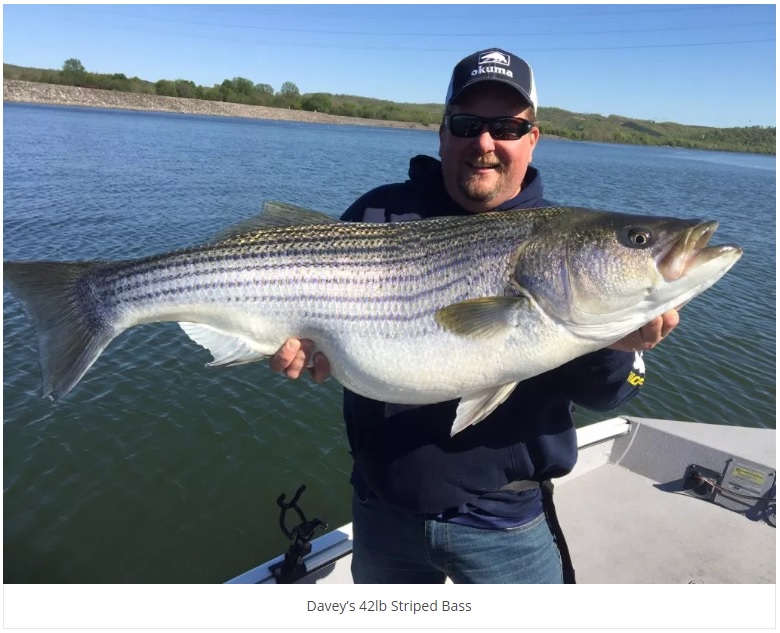 We stayed at the base of the dam for another hour with more swirls, and lookers, but no go on other fish. We had to fight off Osprey as they would swoop in and try for a free meal of their own.
Once we finished our last Skipjack we headed on over to the run out area as most of the dozen or so boats that were there had left with the sun fading over the smokey mountains. With no more live bait, we tied on some rubber tailed jigs and headed in. Brycen would skillfully nose in the boat so that we can cast right on the outflow and work our jigs back with the current. On the second pass I had a hard thump on the rubber tailed jig head. I set the hook hard and handed it over to Gene. With a strong current the fish turned itself sideways and made a run. Gene fought it hard and it turned out to be a nice Drum. Couple quick pictures and it went back in the drink.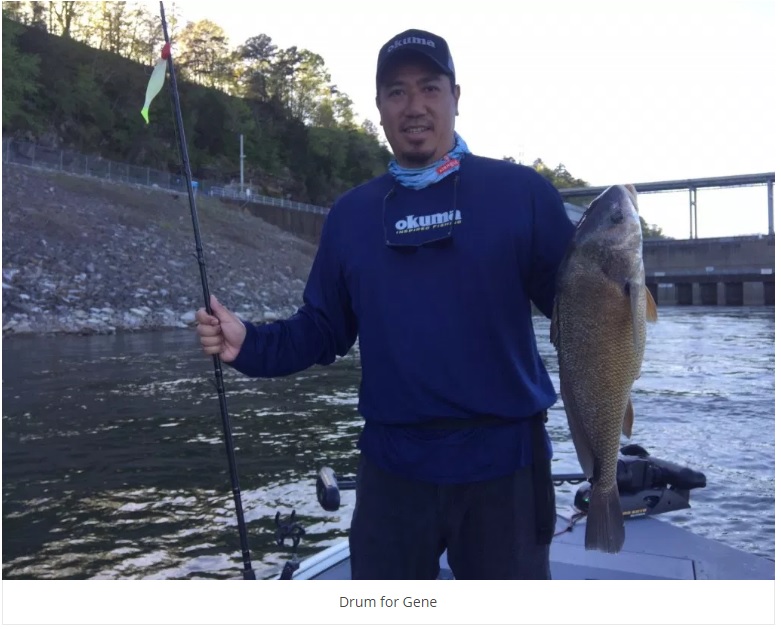 We made another run up to the outflow and and tried the same series again. I pitched my bait forward and let the drift take shape. Once the the slack caught up with the bait, I gave it a couple of jigs and boom, felt a hard hit. I set the hook again and drag started peeling. I handed the rod over to Gene who watched this fish peel line off the Komodo 350. Once he got the fish to stop he fought it to the boat. This was clearly no drum by the way it was fighting. As we got the fish near the boat Brycen and I looked down and saw the bright stripes of a big striped bass. This one was also a monster and fish of a lifetime for Gene coming in at a very solid 36 pounds on the Boga scale. Brycen mentioned that he had never seen a fish so big come out of the outflow area, and you know what, we were pretty proud of that.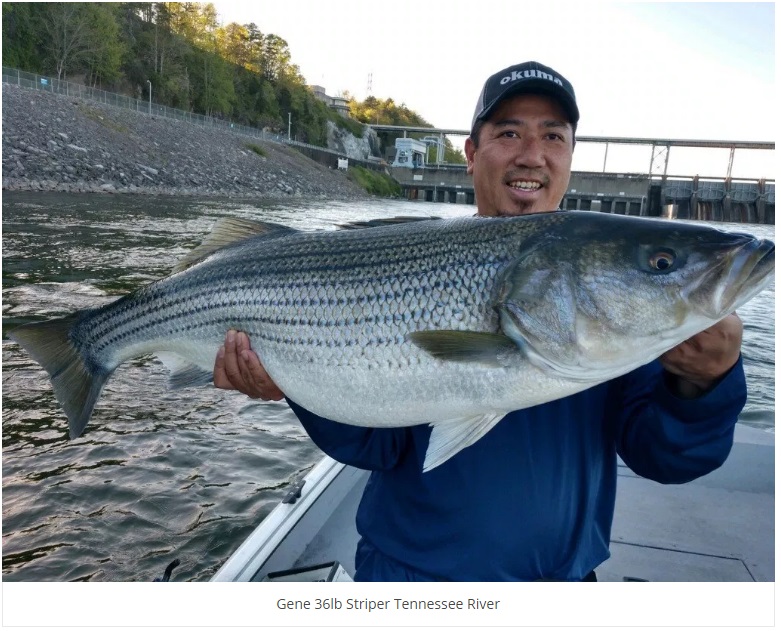 Once we snapped a few shots and sent her back into the river, we tried to make the pass again but noticed that the water had become very turbulent. The gates had opened and the dam was kicking out a lot of water making the area pretty unsafe. We decided to call it a day and pulled out of the area with some pretty incredible memories.
Back at the dock we snapped a few sunset shots looking back over the nuclear plant and shot some video with Brycen.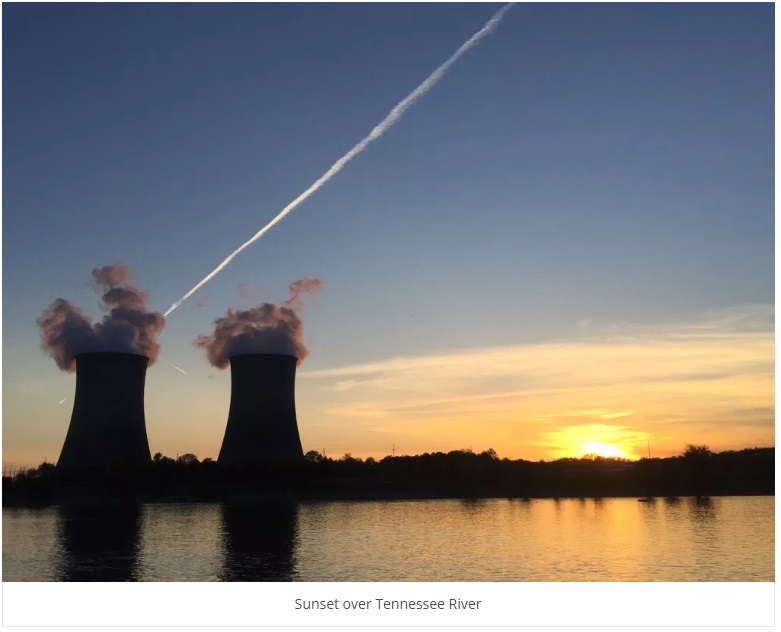 If you are looking for a great fishing adventure, and want a legitimate chance at catching a fish of a lifetime, give the guys at Tennessee River Monsters a look. They run a class operation and work hard to get you on some fish. They chase giant striped bass and giant catfish as well with fish over 100 pounds not out of the question.
From: http://daveysworld.com/striped-bass-fishing-tennessee-river/
SOUVISEJÍCÍ PRODUCTS

---

Nízkoprofilové baitcast reels Okuma Komodo SS s nízkoprofilovými baitcast reels jsou vybaveny ozubenými baitcast reels nerezové oceli a hnacími hřídeli, spolu s úžasnou úrovní tažného výkonu, přijímají největší freshwater ryby, jako je štika, pižmo a losos, spolu s nejnáročnějšími pobřežními druhy, jako jsou stripery, zvedáky a trofejové kaliko. , s úrovní výkonu a odolnosti, která je nejlepší ve své třídě.

---

---