Features
Durable E-glass blank construction.
ALPS new ball bearing roller guides with large know clearance.
ALPS heavy duty Aluminum reel seat.
ALPS Channel lock Aluminum butt, straight and bent version.
Abalone on the face highlighted the IGFA tournament rods.
Shrink tube fore grip for ultimate durability.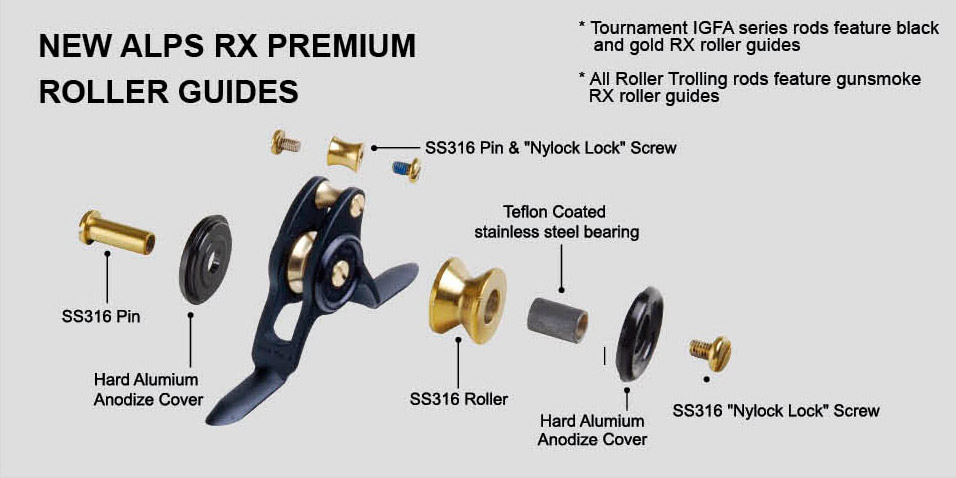 NEW ALPS RX PREMIUM RPLLER GUIDES
All Roller Trolling rods feature gunsmoke RX roller guides.
A:ALPS aluminum slotted reel seat with aluminum gimbal
B:ALPS aluminum reel seat with aliminum gimbal
C:ALPS aluminum bent butt section
Specification
Makaira Saltwater Standup and Trolling Rods
Model
Rod Power
Rod Taper
Rod Length
Line Weight
Lure Weight
Sections
Foregrip length
Reargrip length
Number of Guides
Handle Style
Weight (oz)
Trolling Rods All Roller Guides
MK-TR-601H
H
M/MF
6' 0"
30~80 lbs
N/A
1-pcs
16"
11-5/8"
5 + Tip
A
25.2
MK-TR-601XH
XH
M/MF
6' 0"
40~100 lbs
N/A
1-pcs
16"
11-5/8"
5 + Tip
A
26.1
MK-TR-601XXH
XXH
M/MF
6' 0"
50~120 lbs
N/A
1-pcs
16"
11-5/8"
5 + Tip
A
27.0
Makaira Sturgeon Rods
MK-ST-801M
M
F
8' 0"
65~130 lbs
N/A
1-pcs
6-1/4"
14"
9 + Tip
F
15.6
MK-ST-801MH
MH
F
8' 0"
80~150 lbs
N/A
1-pcs
6-1/4"
14"
9 + Tip
F
15.8
Makaira IGFA Straight butt Stand-up Rods
MK-TR-581-30S
H
M/MF
5' 8"
30~lbs IGFA
N/A
2-pcs
8"
11-3/4"
4 + Tip
B
35.7
MK-TR-581-50S
XH
M/MF
5' 8"
50~lbs IGFA
N/A
2-pcs
8"
11-3/4"
4 + Tip
B
37.2
MK-TR-5101-80S
XXH
M/MF
5' 10"
80~lbs IGFA
N/A
2-pcs
8"
14"
4 + Tip
B
41.1
Makaira IGFA Bent butt Stand-up Rods
MK-TR-5101-80B
XXH
M/MF
5' 10"
80~lbs IGFA
N/A
2-pcs
8"
14-3/4"
4 + Tip
C
47.0
Related Products

---

Okuma Makaira lever drag reels are perfect for big game fisheries for billfish, large tuna and sharks. With advanced, unique and numerous patents, Makaira provides uncompromised excellence within every aspect of its design, construction and performance. - Makaira reels all feature two-speed gearing systems - Gold anodized two-speed gear shifter housing - Cold forged, Type-II anodized, machined aluminum spool - CRC: Corrosion Resistant Coating process - Patented spool pin system for use with braided or mono lines - Carbonite Dual Force drag system featuring Cal's universal drag grease - Custom designed thrust bearing: Alleviates side load on heavy drag settings - 4-pcs ABEC-5 precision Sapporo stainless steel ball bearings - MK-80WII features 6-pcs of Sapporo ball bearings - Double-dog, proprietary silent anti-reverse system - Ratcheting drag lever and pre-set knob for precise drag setting - Patented T-Bar handle with Easy Roll graphite insert on all models - Heavy duty stainless steel ratcheting clicker system - Heavy duty, 17-4 grade stainless steel drive and spool shafts - Type-II gold anodized frame, sideplates, spool, drag lever and handle - Open top frame design on MK-8II,10II, 15II,16II, 20II, and 50II - Lug and plug system on all open top reel models - Machined thumb rest on rear cross bar for improved ergonomics - Forged aluminum full hard anodized reel foot and reel clamp - Machine-etched marlin logo on left side plate - Precision placement of drain holes maximizes water removal from reel - Special screw ports around side plate screws reduces water/corrosion buildup

---

---

Okuma Makaira SEa lever drag reels feature special edition gun smoke and black anodizing. The carbonite dual force drag system maximizes high-end drag pressure, efficiency and overall smoothness. It's over sized handle and lower low speed gearing versus the original Makaira serve up extreme torque for the Makaira SEa. - Open spool bearings with TSI-301 oil. Increases freespool 2-1/2 times. - MK80WIISEa and MK-130IISEa feature grease-packed spool bearings - All non-spool bearings feature full grease pack for maximum longevity. - Features Special Edition Gun Smoke and Black anodizing. - SE reels feature a yellowfin tuna etched into the sideplate. - Frames have been machined out for increased clearance between spool and cross bars. - MK-8/10/15 feature MK-20 size handle knobs. - MK-20/30 feature the MK-50 handle arm and knobs - Lower speed 1.3:1 gear ratio featured in 20/30 sizes. - Lower speed 1.0:1 gear ratio featured in 50 size. - Type-II gunmetal anodized frame, side plates, spool, drag lever and handle

---

---